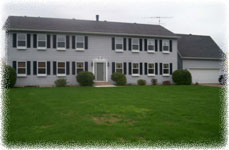 Asissted Living in Eau Claire, Wisconsin
Apple Valley Home in Eau Claire, Wisconsin provides resident assisted living to up to 4 adults. Our home serves the citizens of Eau Claire, Wisconsin and the surrounding counties and is integrated with the Eau Claire community and its services that support our residents in their social, medical, and transportation needs. Our high standards reflect a caring family environment that promotes personal relationships, while maintaining a professional business operation.
Owned and operated by Ron and Shelly Knutson, Apple Valley Home is a colonial style home that was built in 1991. Apple Valley Home offers 4 spacious resident rooms, with each room featuring 249 square feet of living space, a private bath, a whirlpool tub, and a gas fire place. Its focus is individualized assisted living for adults who can benefit from personal care, health monitoring, and supportive services to improve, stabilize, or maintain their physical health, mental health and well-being.
Specifically the goals we will strive to achieve and dedicate our operation to, are as follows:
Develop personal dignity and integrity in the assisted living setting.
Recognize and preserve each person's spirit and individuality.
Communicate with and provide support for our residents, their families and others in their support network.
Promote social, spiritual, and physical well-being through active involvement, wholesome and nutritious meals, and health supervision.
Pursue the highest ideals of service: set the standard for quality service in assisted living; embody these principles through sensitive delivery, staff, and training.
We realize that you have a choice in assisted living facilities, and that you're looking for the highest standard of care in a comfortable setting. That's why we invite you to come visit our home, and see for yourself. See the grounds and facilities, meet the staff, and have all of your questions answered. Once you do, we think you'll agree - there's no better home for your loved one than Apple Valley.